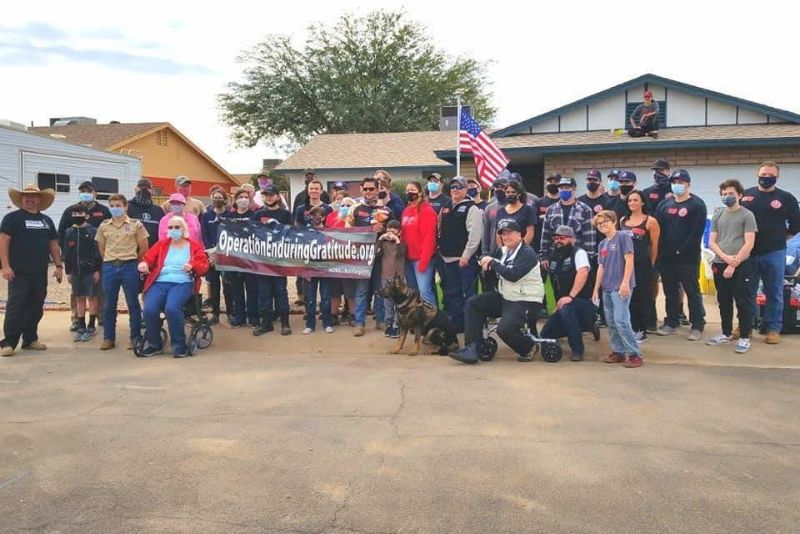 At Operation Enduring Gratitude, we are privileged and deeply honored to introduce Derrick, a courageous Marine veteran whose unwavering dedication mirrors the indomitable spirit of our nation's heroes. It is with profound humility that we extend our support to Derrick, standing by his side to express our deepest gratitude for his service.
Our current mission, Project: Derrick, represents a beacon of hope and resilience. It is an endeavor rooted in compassion and dedication, aiming to rebuild Derrick's home while addressing city code compliance complaints. Prompted by our successful completion of a previous initiative, where we heard of another local veteran in need, our dedicated team at Operation Enduring Gratitude sprang into action. Our goal is clear: to create a lasting, positive impact in Derrick's life, ensuring he can embrace a future filled with dignity and stability.
Through the unwavering support of our dedicated volunteers and the generosity of our contributors, we have successfully rebuilt Derrick's home and restored his livelihood. This transformative project serves as a testament to the unwavering commitment of Operation Enduring Gratitude to our deserving veterans. Derrick's story echoes the resilience of countless others who have sacrificed so much for our country.
Operation Enduring Gratitude stands firm in its conviction to honor and support the brave men and women who have selflessly served our nation. Projects like Project: Derrick are not just initiatives; they are living proof of our deep gratitude and enduring dedication to those who have made significant sacrifices for our freedom.
We invite you to join us in our noble mission to make a meaningful difference in the lives of veterans like Derrick. Your involvement, whether through financial contributions, volunteering your time and expertise, or simply spreading awareness, is invaluable. Together, we can continue to serve those who have given their all for our freedom, ensuring that no veteran is left unsupported.
Stand with us. Stand with Derrick. Together, let's restore honor, rebuild lives, and create a brighter future for our veterans.