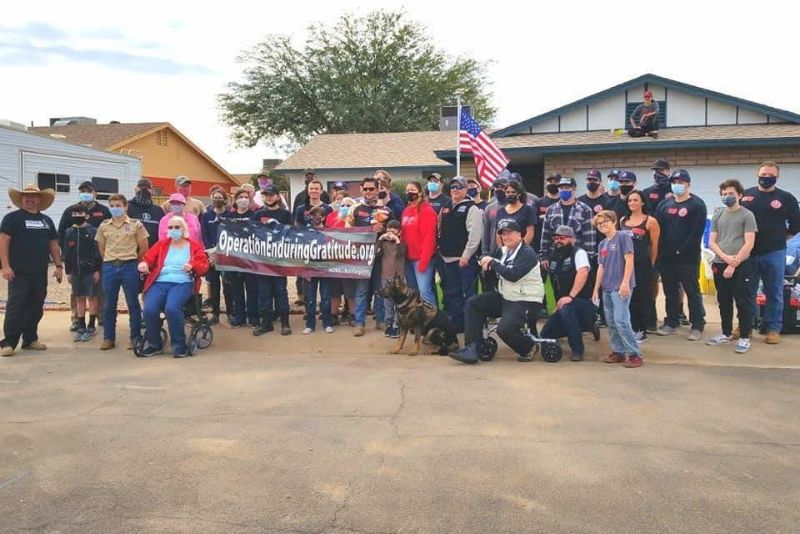 At Operation Enduring Gratitude, we stand in awe of the extraordinary courage exemplified by individuals like Gilbert, a devoted United States Army veteran. His unwavering dedication mirrors the spirit of our nation's heroes, and it is our distinct honor to offer our heartfelt assistance to him.
In this noble endeavor, Operation Enduring Gratitude undertook the challenging mission of restoring Gilbert's home, a sanctuary he deserved after his years of service. Our primary objective was clear: to transform his dwelling into a haven of comfort and dignity. Through the collective determination of our volunteers and the generosity of our contributors, we worked tirelessly to ensure Gilbert's living space became a place where he could reclaim his life with pride.
With the unyielding support of Operation Enduring Gratitude's dedicated volunteers and the kindness of our contributors, we successfully completed our mission, bringing light back into Gilbert's life. This undertaking was not merely an architectural renovation; it was a symbol of our organization's unwavering commitment to our cherished veterans. Gilbert's story echoes through our halls, reminding us of the importance of standing by those who have given so selflessly.
Operation Enduring Gratitude remains resolute in our pledge to honor and support the brave men and women who have served our nation with unparalleled dedication. Projects like Gilbert's are a testament to the depth of our gratitude and our enduring commitment to those who have sacrificed immeasurably.
We extend an earnest invitation for you to stand alongside us in this noble mission. Your involvement, whether through generous donations, dedicating your time as a volunteer, or simply raising awareness, has the power to perpetuate this vital work. Together, let's continue to serve those extraordinary individuals who have given their all for our freedom.
Join us in weaving more tales of transformation and hope. Let us together be the architects of a brighter future for our veterans.