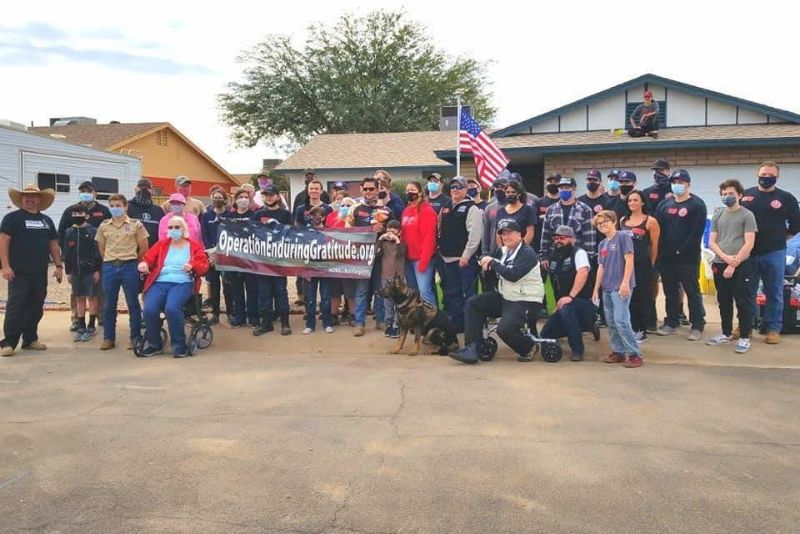 At Operation Enduring Gratitude, we are privileged to introduce you to Jack, a courageous Navy veteran who embodies the resilience and dedication of our nation's heroes. We stand humbled, honored, and deeply moved to extend our unwavering assistance to Jack in his time of need.
Our recent mission exemplifies our core values. We embarked on the daunting task of rebuilding Jack's home, which had tragically burned down, leaving him without a place to call home. Our primary objective was to collaborate closely with local partners, pooling our resources and expertise to restore Jack's home to a livable condition. Through these collective efforts, our aim was not just to provide shelter but to create a haven of dignity and comfort for Jack, ensuring he could embrace life anew.
The transformation of Jack's circumstances speaks volumes about the indomitable spirit of collaboration and compassion. This project, named Project: Jack, stands as a powerful testament to our organization's unwavering commitment to our deserving veterans. It echoes our dedication to making a tangible, positive difference in the lives of those who have sacrificed so much for our country.
Operation Enduring Gratitude remains steadfast in our conviction to honor and support the brave men and women who have selflessly served our nation. Projects like Project: Jack are not just endeavors; they are manifestations of our deep gratitude and unwavering dedication to those who have given their all.
We warmly invite you to join us in our noble mission. Your involvement, whether through generous donations, volunteering your time and skills, or simply spreading awareness, has the power to make a significant impact. Together, we can continue serving those who have given their all for our freedom, ensuring that no veteran is left behind.
Let us stand united in gratitude and solidarity, working hand in hand to restore hope and transform lives. Together, we can make a lasting difference in the lives of our veterans.