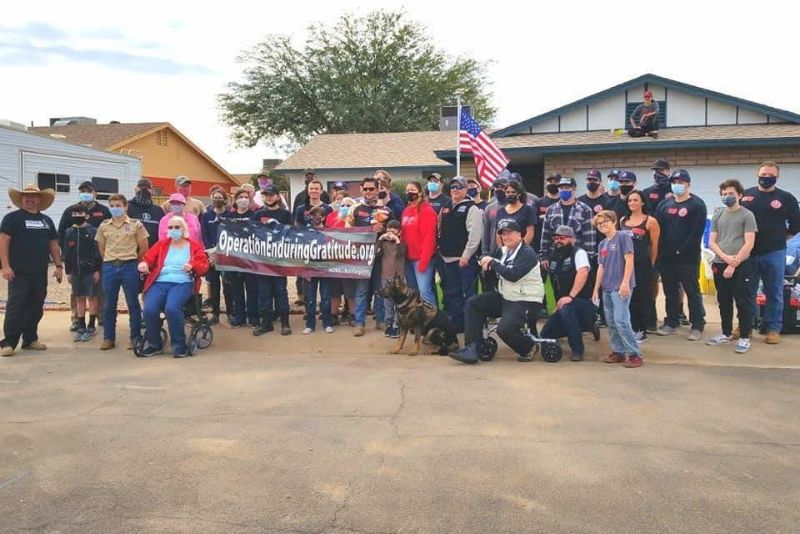 At Operation Enduring Gratitude, we have been profoundly moved by the resilience of individuals like Terry, a brave soul who proudly served in the United States Army. Terry embodies the unwavering spirit and commitment that define our nation's veterans. It is our distinct honor and privilege to stand by Terry's side, offering our support and expressing our deepest gratitude.
Our recent mission was a heartfelt endeavor to rebuild Terry's home, tragically consumed by fire. This project came to our attention after the successful completion of another initiative. Hearing of Terry's situation, our dedicated team at Operation Enduring Gratitude felt an immediate call to action. With determination, compassion, and the generosity of our supporters, we set out to create a lasting positive impact in Terry's life, ensuring he could regain his dignity and peace of mind.
Through the collective efforts of Operation Enduring Gratitude's steadfast volunteers and the generosity of our contributors, Terry's home was not only rebuilt but also restored his livelihood. This endeavor stands as a beacon of hope, a testament to our unwavering commitment to those who have served our nation with unmatched courage and sacrifice.
The transformation of Terry's life is a testament to the power of community, compassion, and collective action. Project: Terry serves as a reminder of our organization's deep gratitude and enduring dedication to our deserving veterans. Every nail hammered and every wall rebuilt echoes our commitment to making a tangible, positive difference in the lives of those who have given so much.
Operation Enduring Gratitude remains unshakable in our conviction to honor and support the brave men and women who have selflessly defended our nation. We urge you to stand with us in this noble mission. Your involvement, whether through donations that fund these vital projects, volunteering your time and skills, or simply spreading awareness, holds immeasurable power.
Join us in making a meaningful difference. Together, we can continue serving those who have sacrificed everything for our freedom, ensuring that no veteran is left unsupported.